Which would you rather win: the World Cup, or the Lottery?
But did you know someone has won … both?
With 'World Cup Fever' consuming the myLotto24 office it was finally appropriate for sleuthing via a venn diagram of Lottery winners and professional footballers. You'd probably not expect us to find much, but what we discovered was in fact so shocking you may even turn green from envy – so continue at your own peril!
Big Tommy Bechmann
We begin our investigation with Tommy Bechmann, the recently retired Danish striker who enjoyed a successful spell in the Bundesliga, as well as finishing joint top scorer for Denmark's Esbierg in the 2003-4 season.
In 2017 Tommy won just over €660,000 on the Danish Lottery, using his children's birthdates to choose his numbers.
He got the news while on a family holiday in Spain and admitted:
"The winter holiday will probably be a little more luxurious than planned."
And why not, eh.
Merry Christmas, Kevin
Closer to home we find the story of 22 year old Kevin O'Connor, the rising Irish football star playing in the Championship in England.
Kevin's uncle bought him a Lotto ticket as a present just before Christmas, but Kevin hadn't even checked the numbers until his mother Breda said the winning ticket had been sold locally. After some searching he discovered he had indeed won the one million euro prize!
The Wexford born boy was back visiting family for the holidays – and that certainly paid off.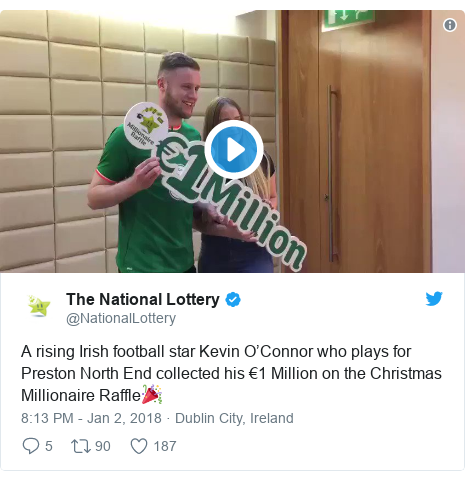 Xavi Does it Again
From a footballing perspective he's considered one of the greatest midfielders of all time, and an integral part of FC Barcelona's and his country's tiki-taka revolution.
Having won a World Cup, a European Championships, and numerous domestic league and cups – he knows what it takes to win. However even Xavi himself was surprised (and on brand) when informed that he'd won €225,000, thanks to being selected at random in the Qatari bank's annual lottery. Just check out this quote:
"I'd opened my account with Doha Bank on December 5, 2016, as I had taken interest in the Al Dana programme after hearing about how Doha Bank encourages their customers to save money, and get a chance to become millionaires as well as the opportunity to win other cash prizes.

"I started to invest with the Al Dana Savings programme, aiming to win the QAR 1 million."
Fantastic bit of PR luck that the winner is such a high-profile superstar don't you think?!
But remember: you don't have to be a professional footballer to win a lottery, and if you're new to myLotto24 then you can bet FOUR Lotto lines for the price of ONE right now!